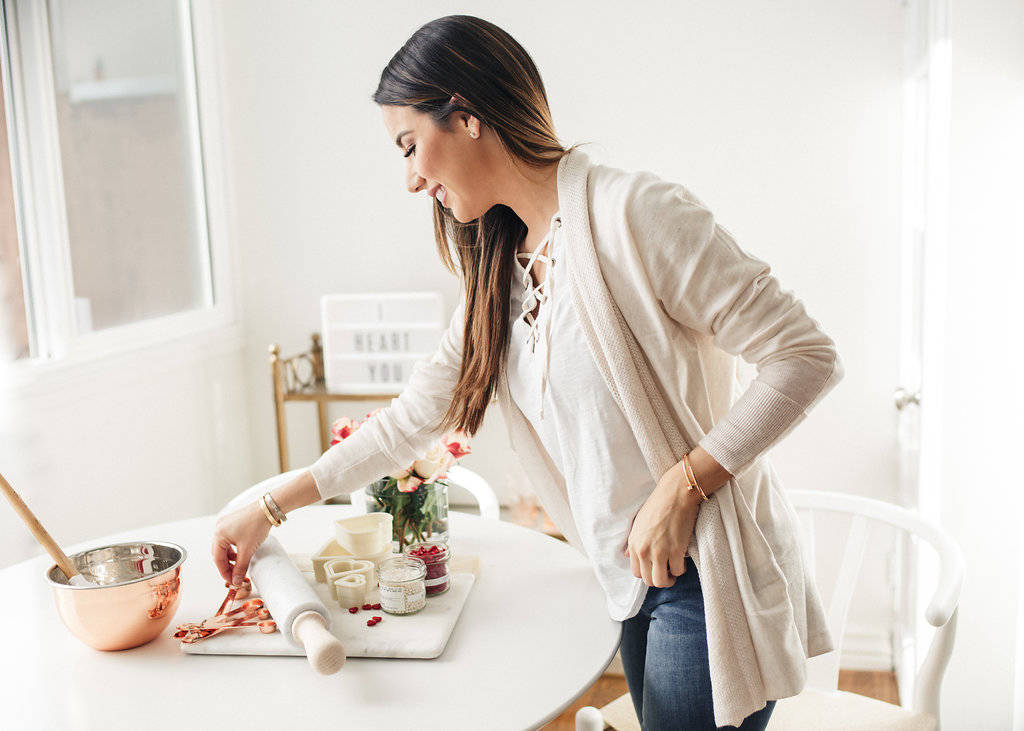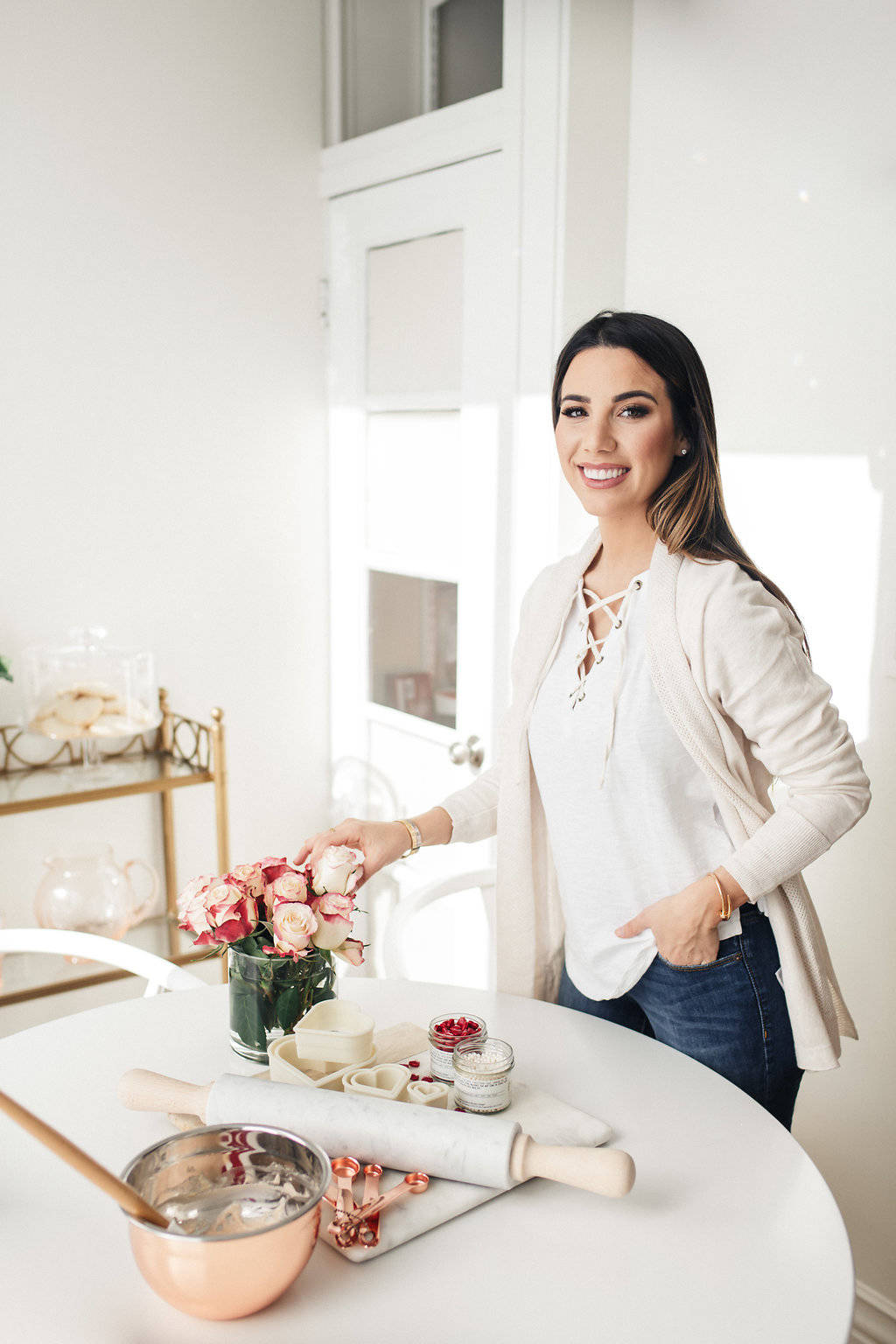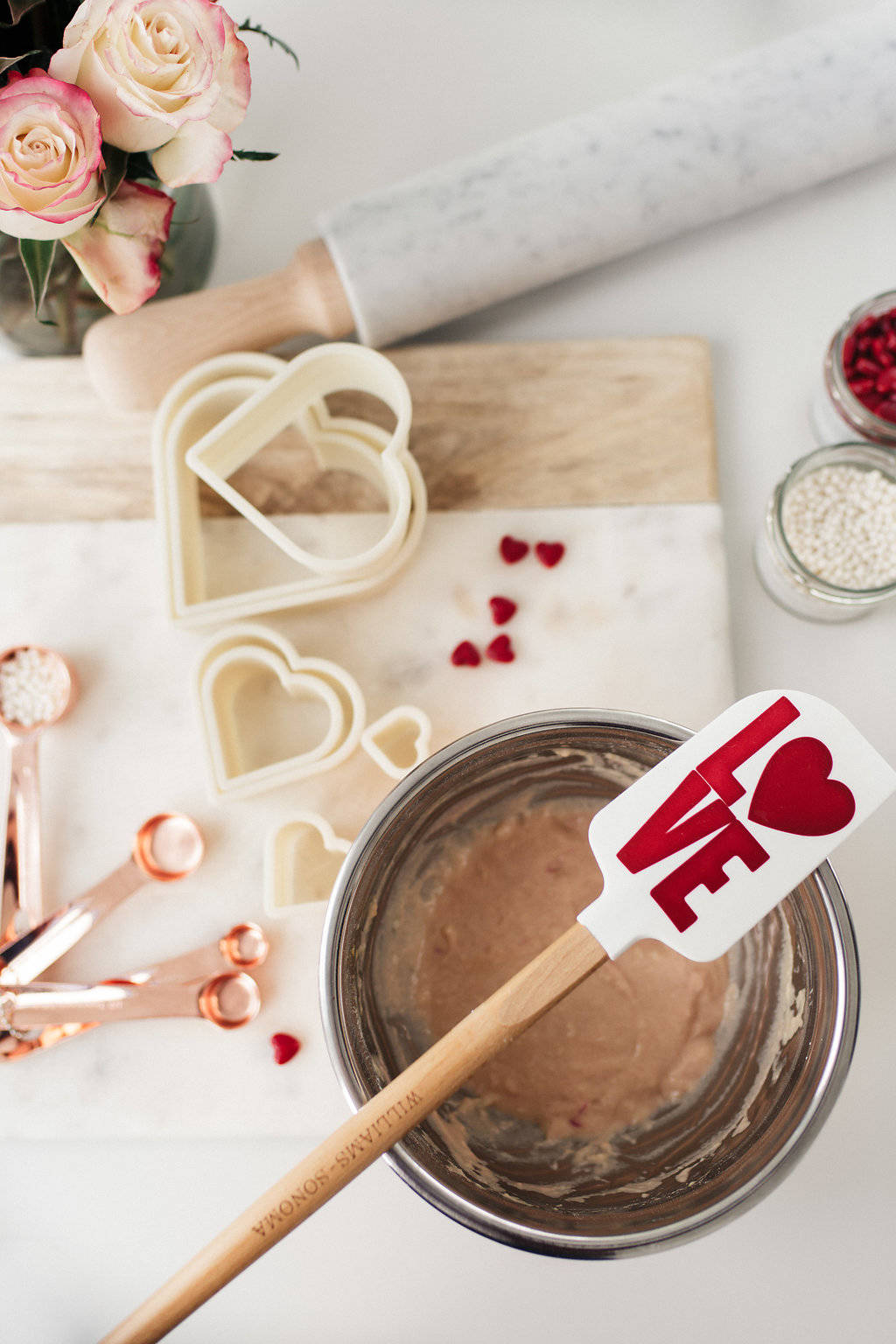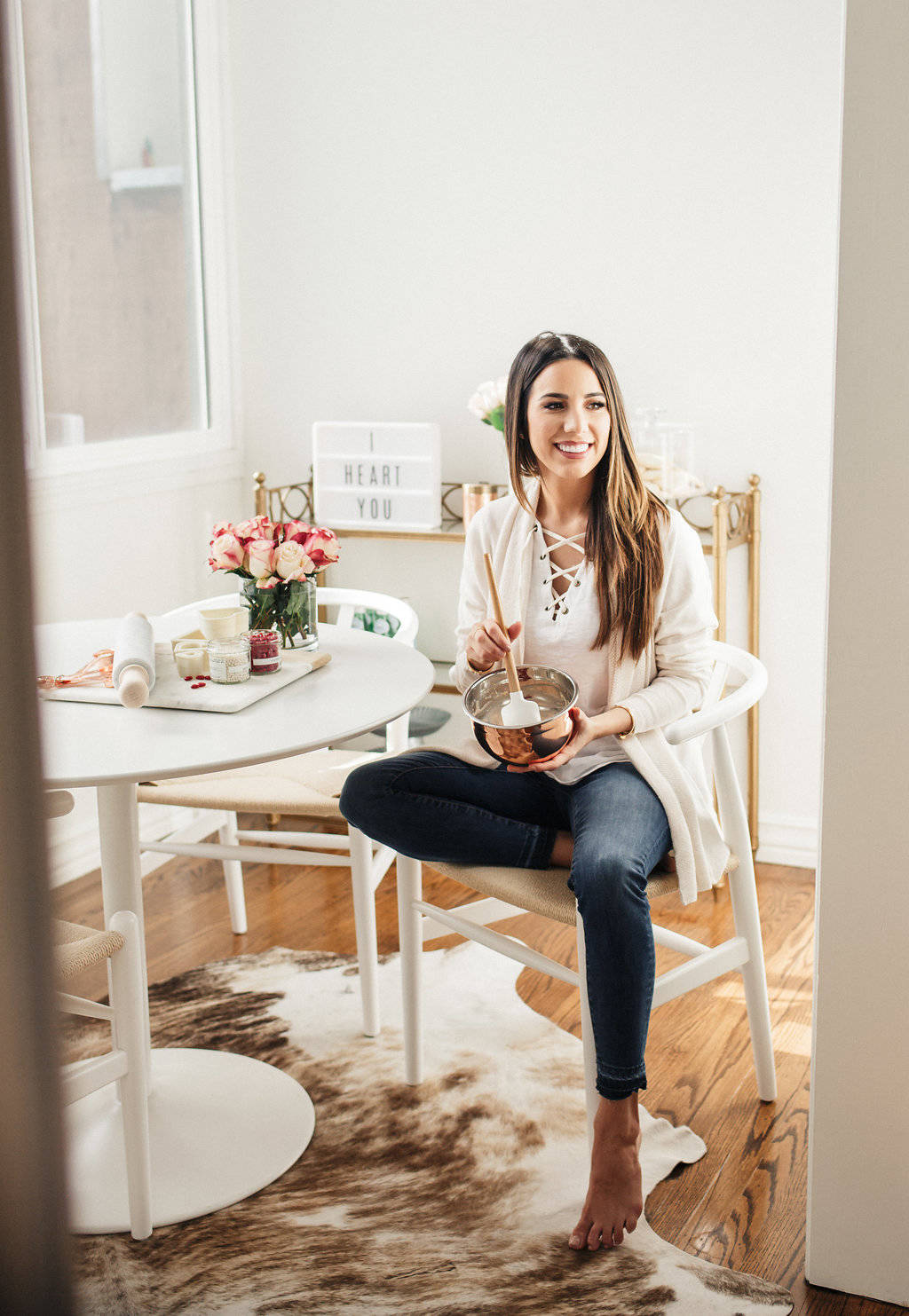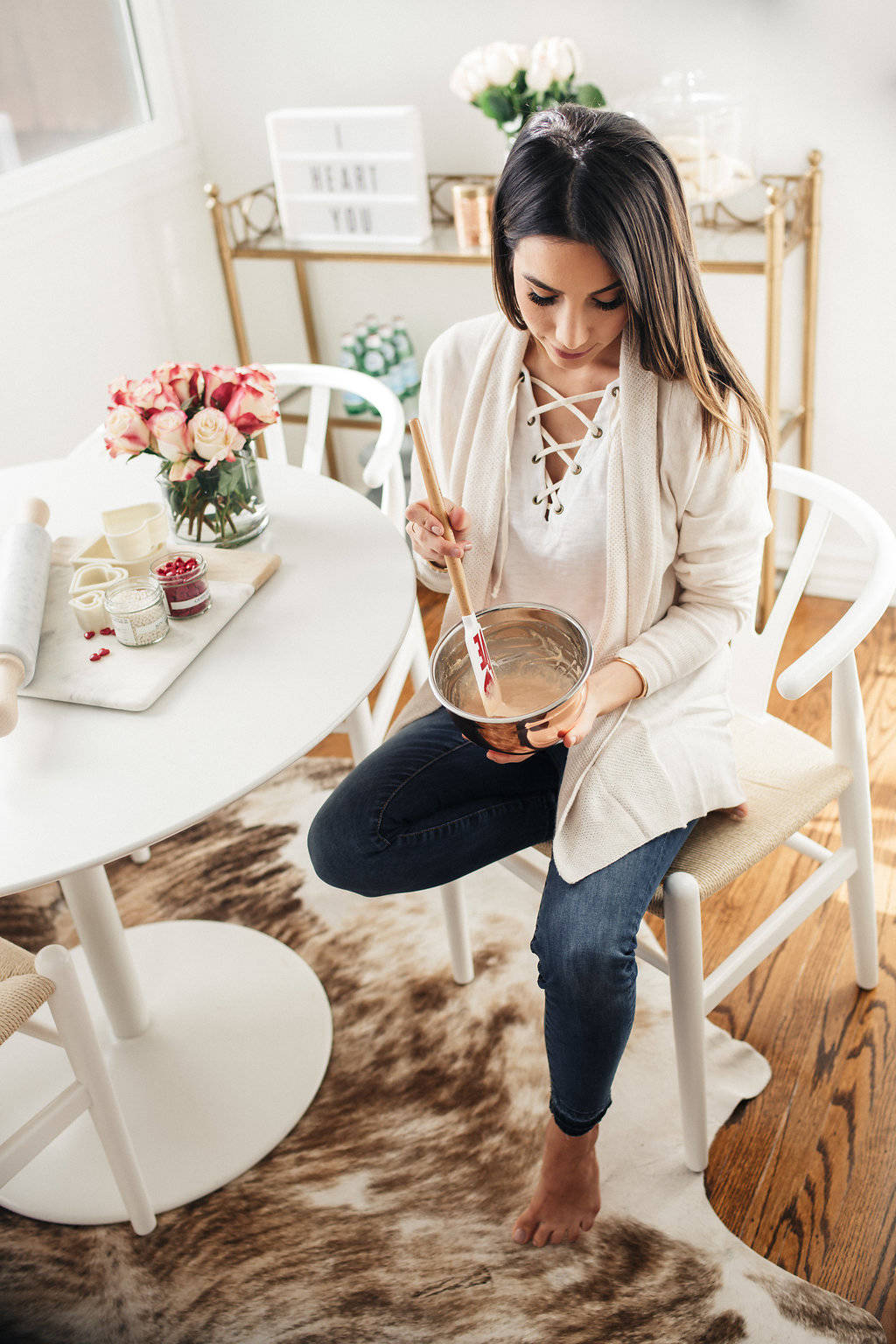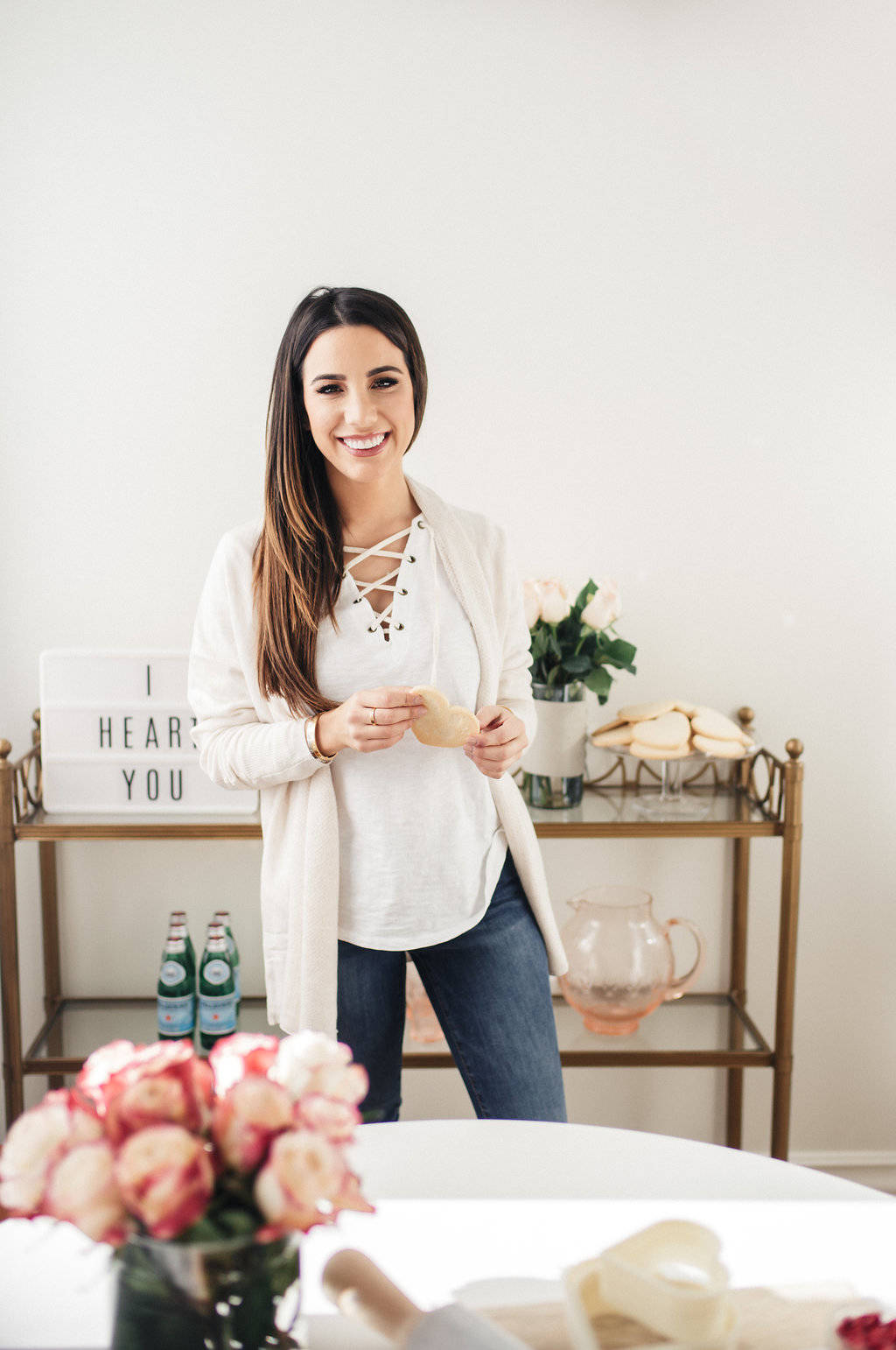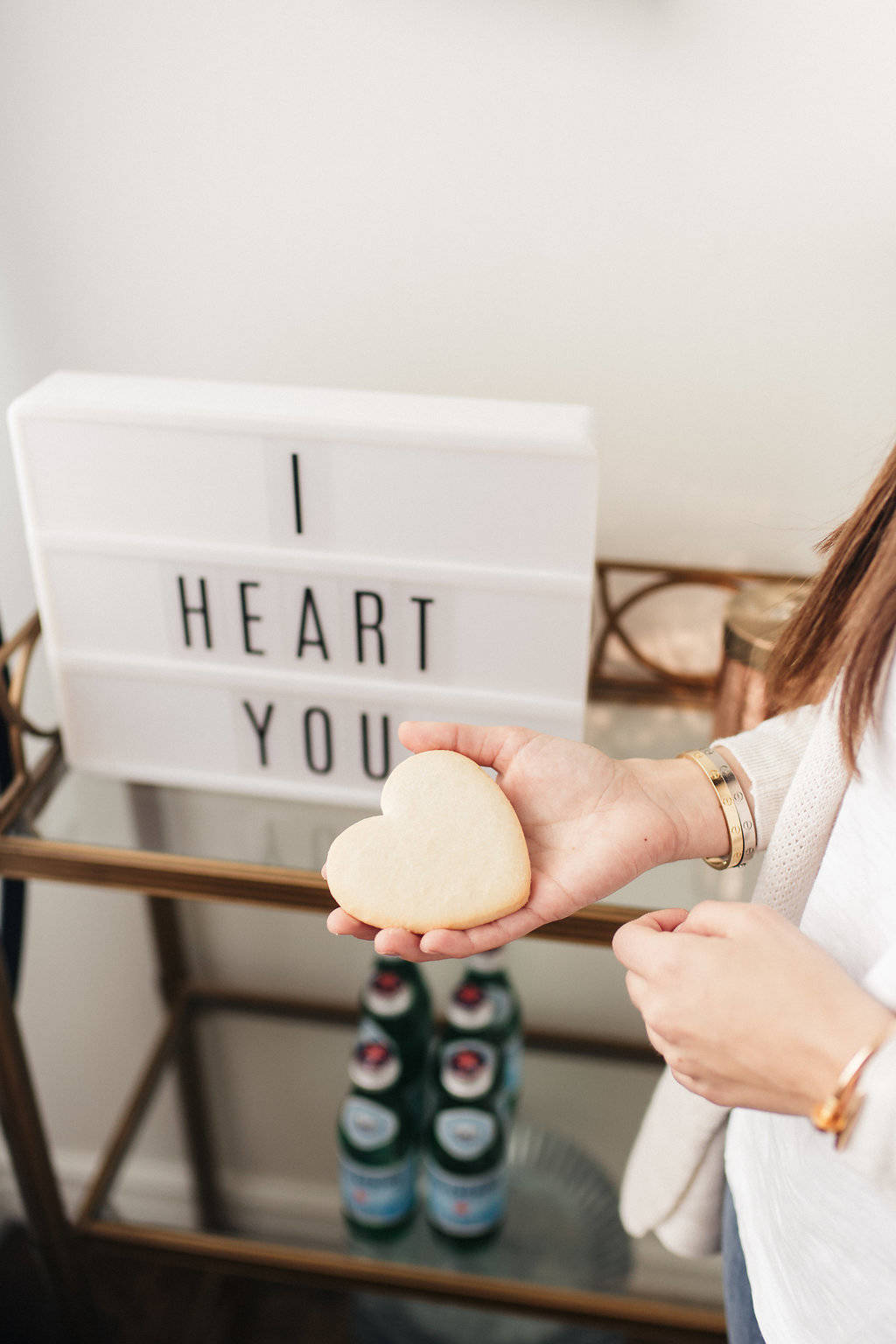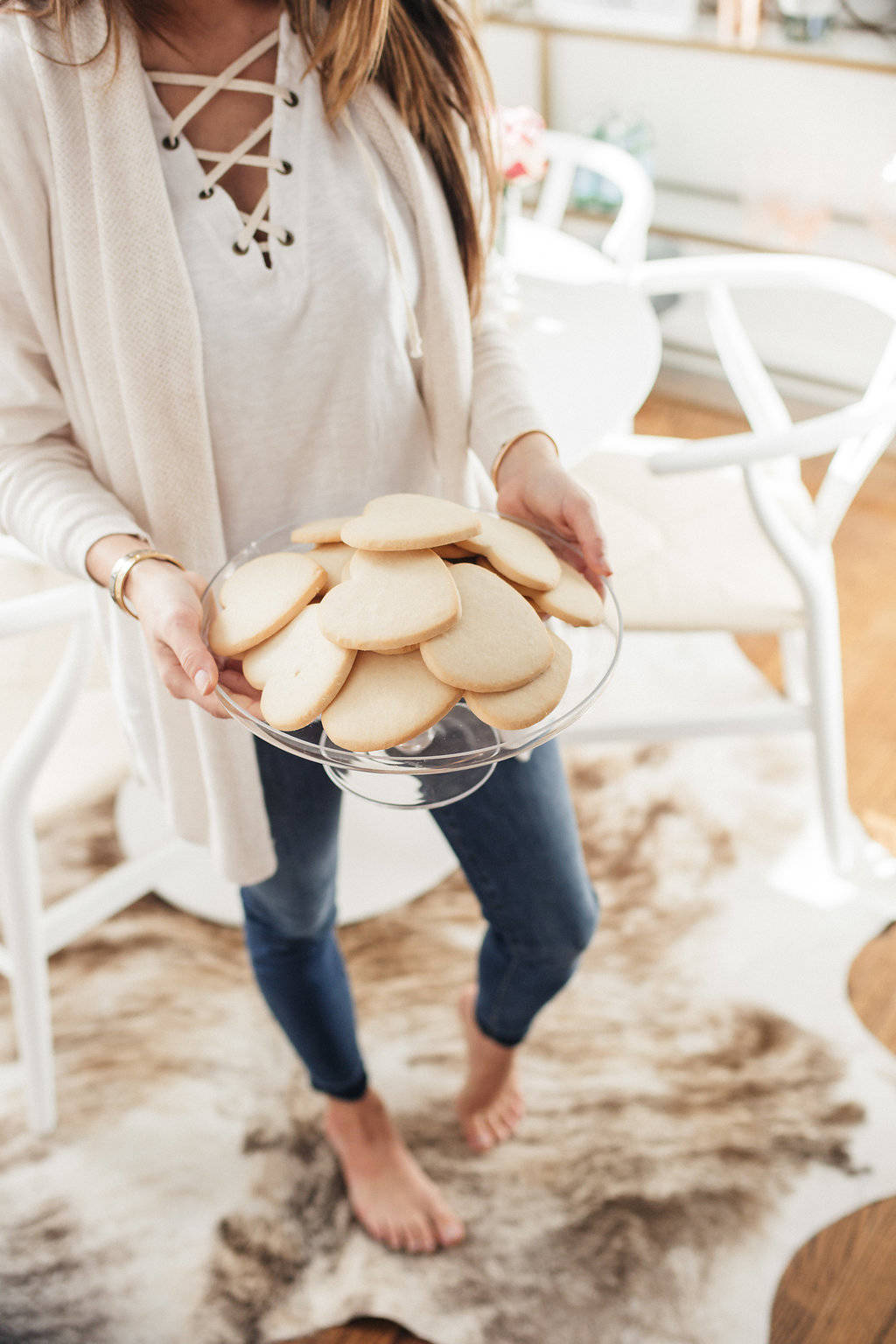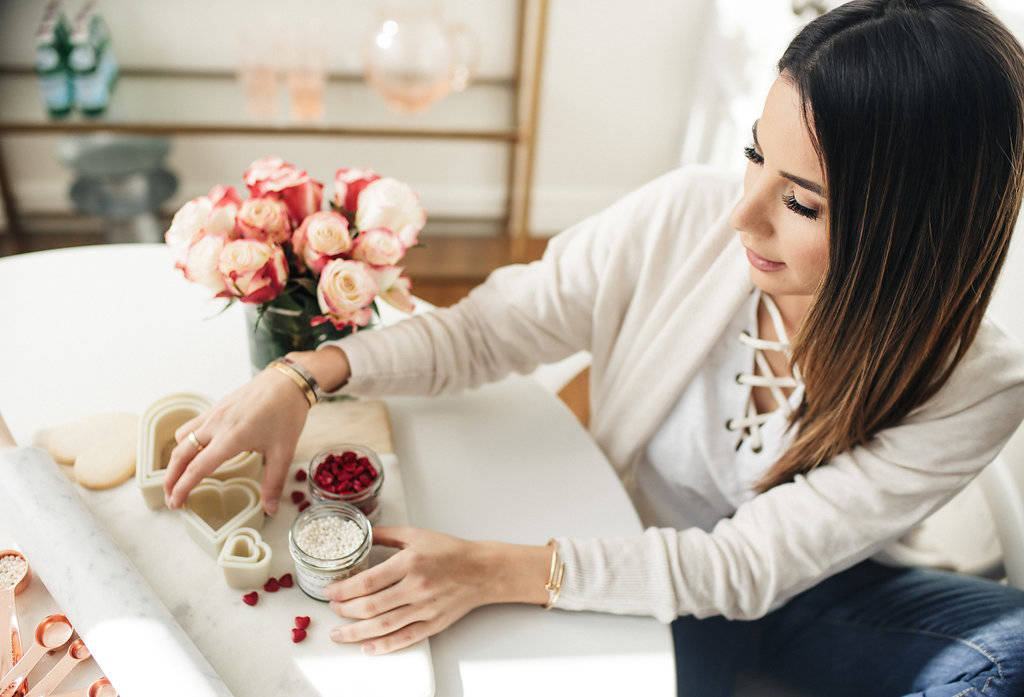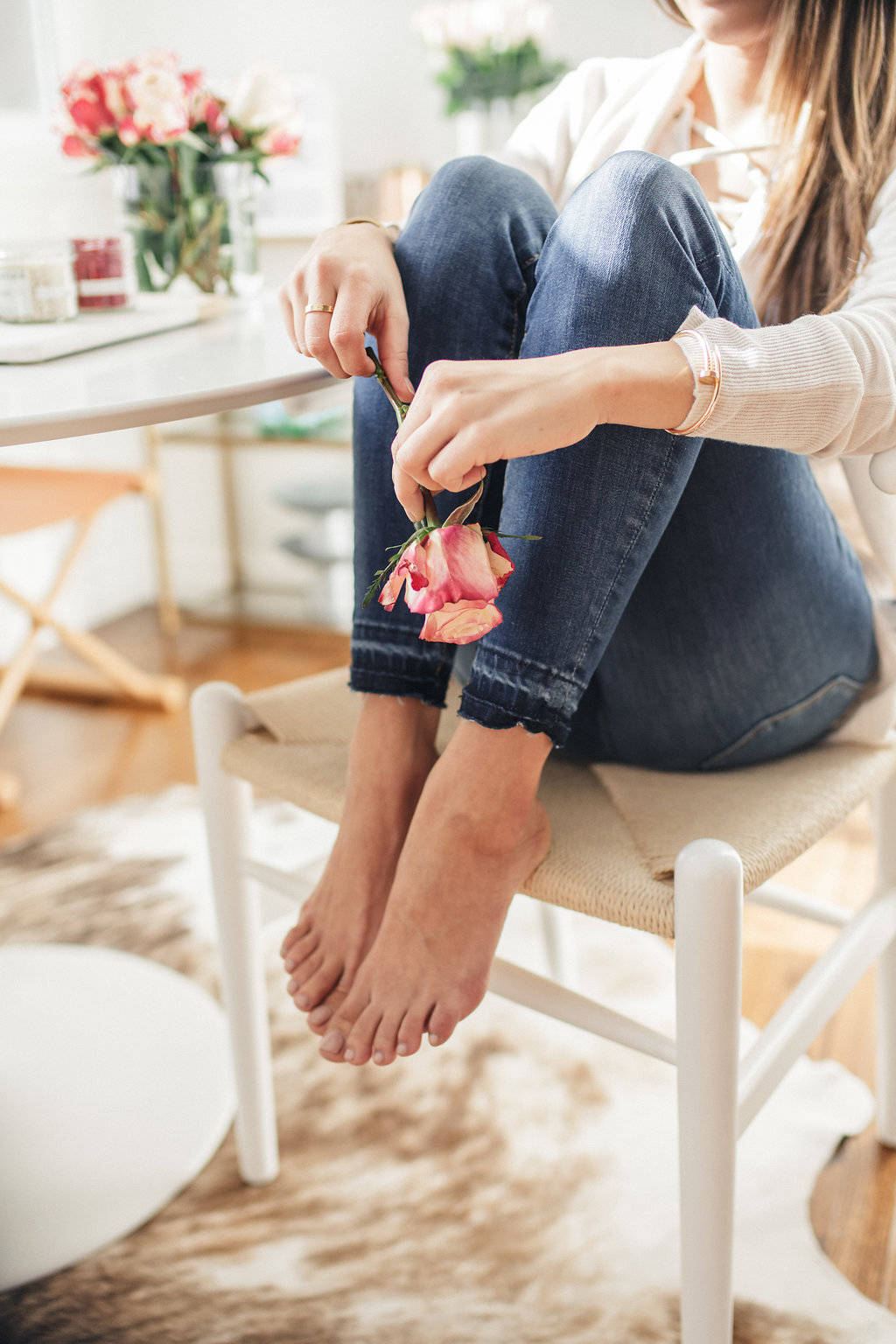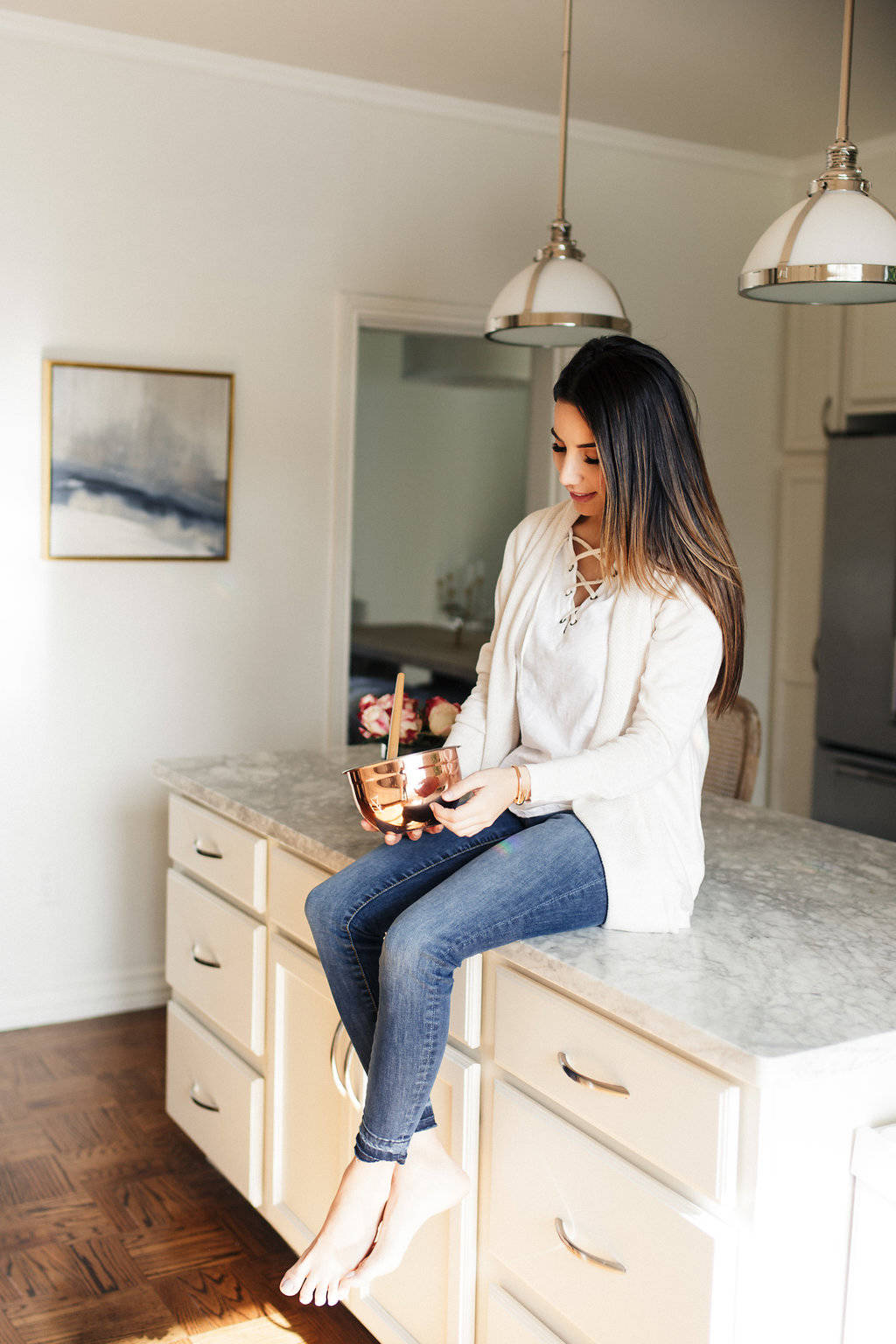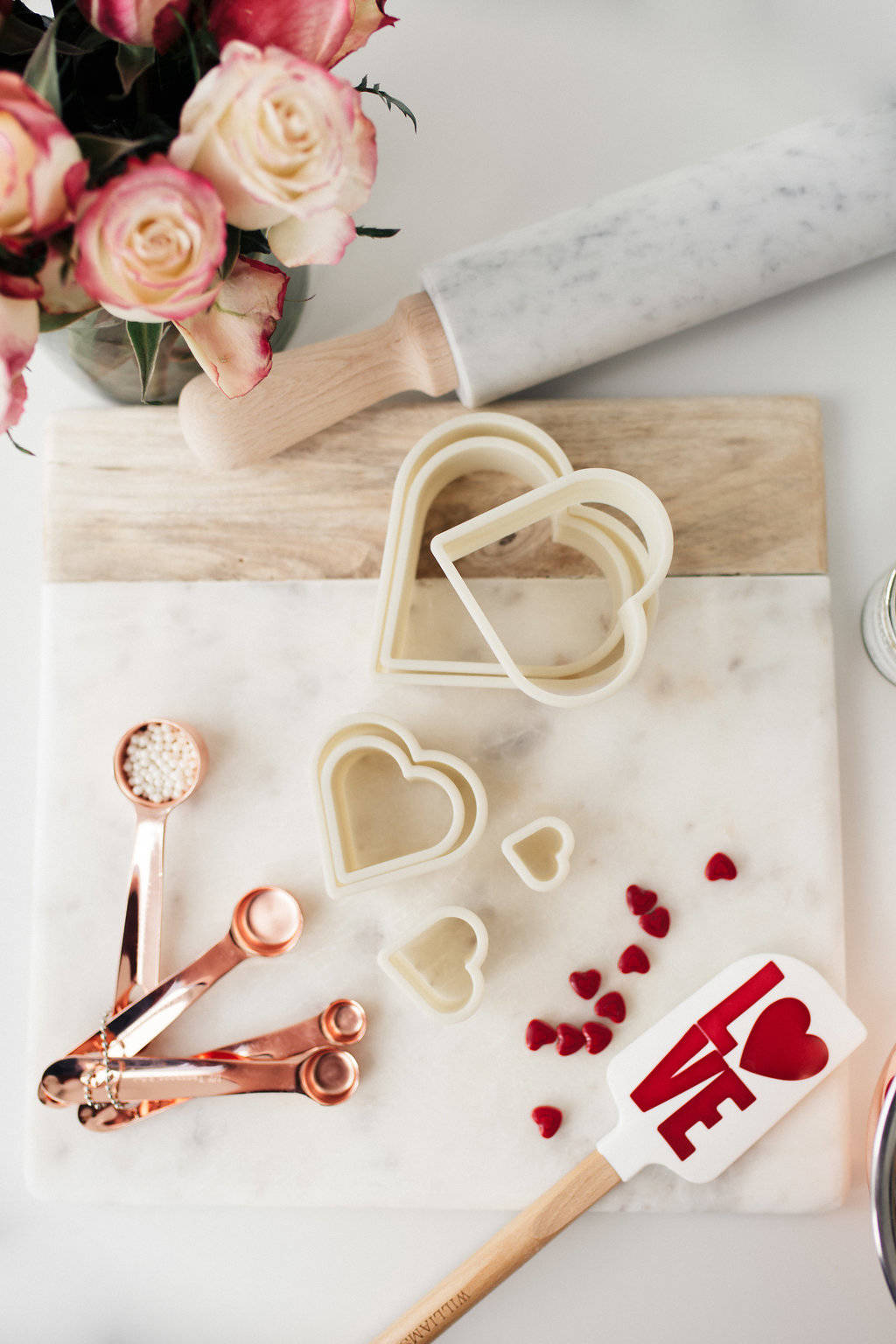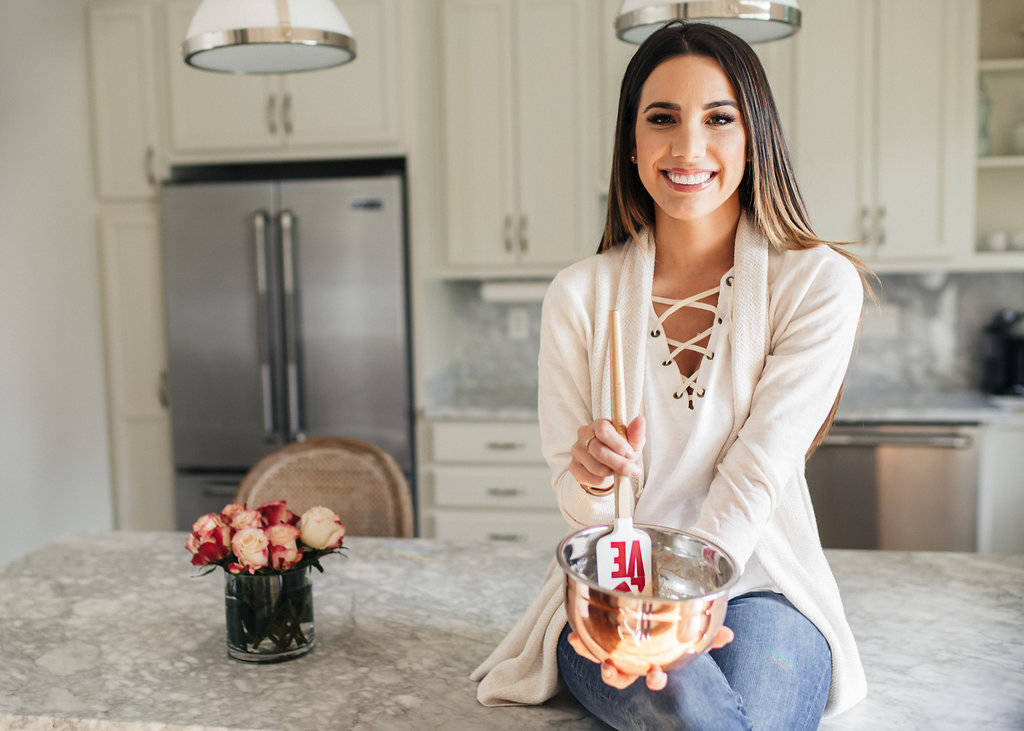 I can't believe it's almost February! 2017 is flying by! I am so excited about the upcoming month though because Valentine's day is one of my favorite holidays. You guys know how much I love all things pink and girly, so Valentine's Day is a natural fit as my favorite!
Finding jeans has always been hard for me. You guys probably don't know this, but I'm actually pretty short. I usually have to alter any pants that I buy. I am so happy to have finally found the perfect pair of denim.
The Old Navy Rockstar jeans  are the perfect fit! They offer a variety of sizes including regular, tall, and petite. My favorite kinds of jeans are the ones that are so comfortable you forget you're wearing jeans. I know all you ladies know what I'm talking about! Well these Rockstar jeans do just that. These jeans are amazing, they're comfy enough to wear around the house, but also perfect to dress up with some heels for date night! Old Navy makes it so easy to layer these cozy pieces, making the perfect Valentine's Day outfit!
I have a lot of big trips coming up (New York Fashion Week & Tulum), so I have really been treasuring my moments at home. This was the perfect outfit to snuggle up in and bake some Valentine's Day cookies. I paired my rockstars with this adorable lace up tee. It is one of my favorite pieces at the moment — the lace up detail is such a fun way to spice up a staple piece. It also comes in a gorgeous coral color, if you're feeling extra festive! I loved layering it with this cuddly sweater.
I am also loving these feminine and romantic pieces right now: this pink floral blouse, this salmon colored military jacket, these pink fuzzy slippers, and this textured sweater!
All of these pink shades are definitely getting me in the mood for Valentine's Day. I am planning on hosting a Galentine's brunch for all my favorite blogger babes — everything will be pink and floral! I can't wait to share with you guys!
Sugar Cookies Recipe
3 cups all-purpose flour
3/4 teaspoon baking powder
1/4 teaspoon salt
1 cup unsalted butter, softened
1 cup sugar
1 egg, beaten
1 tablespoon milk
Powdered sugar, for rolling out dough
1. In a large bowl, whisk together flour, baking powder and salt.
2. In another bowl, using an electric mixer, beat together butter and sugar on medium-high until the mixture is light, fluffy and pale, 2 to 3 minutes. Scrape down sides of the bowl, and add eggs, one at a time, beating well after each addition. Add vanilla, and beat until everything is well combined, stopping to scrape down the bowl as needed.
3. Add dry ingredients all at once, and mix on low speed just until incorporated.
4. Scrape dough out of bowl and divide it in half. Wrap each piece in plastic wrap, patting into a 1-inch-thick disk. Chill at least 2 hours and up to 5 days.
5 .Heat oven to 325 degrees. Roll out dough, one disk at a time, on lightly floured parchment paper or work surface until it's about 1/8 inch thick. Create shapes, using a lightly floured cookie cutter. (Alternatively, using a knife, cut the dough into squares, rectangles or diamonds.) If at any point the dough becomes too soft to cut and cleanly remove from parchment paper, slide it onto a cookie sheet and chill for a few minutes in the freezer or refrigerator. Gather any dough scraps and combine them into a disk. Roll and repeat the cookie-cutting process, chilling as necessary.
6. Place shapes onto parchment-lined baking sheets 1 inch apart and bake until cookie edges are lightly browned with sandy, pale centers, 12 to 15 minutes, rotating the sheets halfway through. Cool the cookies on a rack, if you have one. Otherwise, let them cool on the pan. Decorate with a glaze, royal icing, frosting or whatever you'd like. Don't forget the sprinkles.

Photography: Torrey Fox
Thank you Old Navy for sponsoring this post!